Who We Are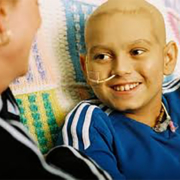 The Innovative Advanced Cancer Research Foundation was conceived when six mothers of children with cancer and two pediatric oncology nurses informally discussed the numerous, poorly addressed needs of children with cancer.  All have an intimate knowledge of the devastating consequences of this disease and currently serve on the Foundation's Board of Directors. All of their children endured intensive chemotherapy, bone marrow transplantations, and disfiguring surgeries. Although the diagnoses and treatments were all different, a powerful alliance was formed from the common knowledge that there are no diagnoses that have an acceptable cure rate.
From the moment their sons and daughters were diagnosed, their most important priority became researching available treatments with acceptable cure rates. They discovered that the cure rates for many pediatric cancers have only minimally improved over the last ten years. The medications being used today have not essentially changed over an even longer period of time. Most worrisome, they learned that pediatric cancers are considered an orphan disease. Practically speaking, this means that the basic and clinical research for pediatric malignancies is underfunded even when corrected to a per case basis. Children, with rare exceptions, only get to try medications developed for adult patients whose cancers have entirely different biological characteristics.
While searching for optimal treatments for their children, they have become acquainted with physicians and scientists who work tirelessly to study promising leads that are substantially different from the established scientific community. We believe that more children may be saved and their side effects reduced if new and atypical concepts were better supported. The Foundation is dedicated to funding these scientific efforts.
The Innovative Advanced Cancer Research Foundation emerged from hopes, tears and demands that no child lose his or her childhood, dreams or future to cancer. We are also certain that many of these projects, although focused on improving the outcome of children and young adults, will also provide significant benefits to adult patients. We look forward to your encouragement and support.
Sincerely,
Board of Directors
Innovative Advanced Cancer Research Foundation